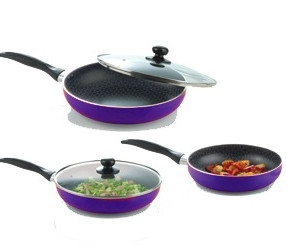 Spider Pan
Product Description
Name:
Spider Pan
Item:
WK0172
Features:
1. Healthy cooking and frying without oil and fat.
2. Frying surface with innovative "polygon structure".
3. Food slides effortlessly from the pan.
4. Non-stick surface.
5. Extremely easy to clean.
6. Energy-saving pan base(Energy Save System).
7. Suitable for all types of cooker(

incl

.
induction cookers).


Ningbo Winifer International Trade Co.,Ltd
Adress: Room 306, South Block, He He International Mansion, No.9, TaixingLane,
South CBD Yinzhou,Ningbo,China 315100
Tel: +0574-87153469
Fax: +0574-87153634
Email: sale1@winifer.com